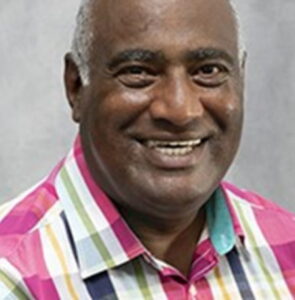 We are deeply saddened by the passing of Rodney Davidse, our beloved colleague, on 3 January 2021. Less than three weeks before his death, Rodney received a Chancellor's Award for his valuable contributions through the years as Administrative Officer at the Department of Civil Engineering. His sustained efforts over 46 years of employment with Stellenbosch University have ensured the smooth functioning of teaching initiatives at the Department of Civil Engineering. His contribution reflects the dedication and commitment of one individual to the academic achievements of multiple generations of engineering students. We keep his wife Jean and family in our thoughts and prayers.
————————————————————————————————————————————————————————————————————–
I still cannot believe that you are "no more"  Rodney, that I will have to come back to an office building where you will not be….You were in Civil Engineering since we all can remember, part of the furniture (:-)… You were a big teddy bear….always ready to give a huge hug or a compliment…or a crit for that matter. The person with the best attitude, always positive, a humongous soul, people's person, caring, a good listener and advisor, a loyal colleague, and best of all, a very loyal and loving friend. You were a perfectionist in everything you do, a giver with a big heart. You lived your life to the full, savoring every moment. You were the glue that kept GMT together, insisting that we all take tea-time breaks and have a laugh together, and later sharing lunch times as well…and even attracted people from other sections. Your hearty laugh could be heard on the floor below or above and bellowed down the passage. You were always available for everybody, staff and students alike, to assist in whichever way you can, whether it was at work, or dropping someone off at the airport. No job was too big or small for you to do. You were a "what you see, is what you get" person. These will be big shoes to fill. You are now with your heavenly Father whom you've known too well all your life. May your soul rest in peace knowing that you did what you could while on earth. We will try our best to keep your legacy alive. The Lord giveth, and the Lord taketh. Goodbye dear friend, till we meet again.
"I guess Heaven was needing a hero
Somebody just like you
Brave enough to stand up for what you believe and follow it through
When I try to make it make sense in my mind
The only conclusion I come to
Is that Heaven was needing a hero like you"
——————————————————————————————————————————————————————————————————————————————————————
Your smile was the brightest and your laughter the warmest. It was an honor getting to know you in such a short period of time. You have been the greatest source of inspiration and courage. Our hearts are broken, but as we mourn your death we also celebrate your life. Rest in peace. ❤️
——————————————————————————————————————————————————————————————————————————————————————
I only knew Rodney for a short time, but I soon realised that he was a key cog in the running of our department. He was the go to person for any issue I had with figuring out how things worked. I am thankful for Rodney helping me to settle into Stellenbosch University. What I will remember most is not how helpful he was in the office but rather something higher. Many of us find our identity in the work we do, but Rodney found his identity in something much greater. Rodney found his identity in his Christian faith. His passing reminded me to never become so engrossed in the temporary that I forget the eternal.
——————————————————————————————————————————————————————————————————————————————————————
Rodney Davidse: A million things
 I had the privilege of working with Rodney for 27 years.
I shall not remember Rodney as someone who accomplished one or two great deeds. For me, he was a shining example of that which most of us can only hope to achieve. A true salt of the earth rock of consistency and reliability, kindness and generosity. The quintessential steward of a million things. From the copying of notes and tests, usually under significant time pressure, and all the daily chores necessary to keep the department running smoothly, to helping me get my laptop registered for home use. Day after day, year after year and always with a friendly and engaging demeanour. Always with a booming laugh, even at my feeblest of jokes.
When struggling for words, it is convenient to look to the true wordsmiths, one of whom wrote:
Smart lad, to slip betimes away
from fields where glory does not stay,
and early though the laurel grows
it withers quicker than the rose.
So yes, Rodney, smart lad and our steward of a million things, you slipped away from these fields too soon.
But, your particular brand of glory will stay with us, it will not wither.
Rest in peace friend.
——————————————————————————————————————————————————————————————————————————————————————
Rodney always had a smile and happy comment for people coming to see him. You knew when he had a task to do that it would get done. In his office there was always either the cricket on, a gospel radio station playing or someone come to visit. He will be sorely missed, but we are grateful that he now is with our heavenly father."
Prof Richard Walls, Dept of Civil Engineering
---
So onthou ek Rodney Davidse:
Rodney was al personeellid van die Departement Siviele Ingenieurswese in my studentejare, in die vroeë 1980's. As jong man was hy al wys en beginselvas. In 1987 het ons kollegas geword. Ons jaarlikse personeelfunksie was in daardie jare 'n gesellige piekniek op die gras onder die bome by Vergenoeg, anderkant die hangbrug oor die Eersterivier. Rodney en Kenny was telkens die braaispanleiers. Beide was oor die jare staatmakers in die personeel krieketspan saam met oud-kollegas soos Jan Rousseau, Willie Malan (paaltjiewagter) en Gert Loedolff, in ons jaarlikse wedstryd teen die finalejaars op Coetzenburg. Met my terugkeer uit die buiteland in 2001 was Rodney steeds hier, en was dit my voorreg om steeds nouer met hom saam te werk die afgelope 20 jaar. Rodney leef vir my voort in ons department, sy tydlose waardes steeds relevant.
In ons dorpsgenoot Pierre Nolte alias Valiant Swart se woorde " 'n Leeftyd is so lank en so kort. Mens wonder wat van die jare word. Vandag kan ons nog lag en sing. Môre net onthou en hulde bring."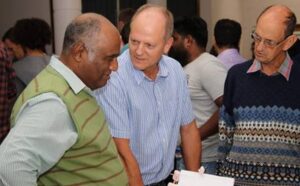 Rodney, beoordelaar by die 2019 nagraadse funksie.
---
In my last message to Rodney,  on the event of his Chancellor's medal award, I wrote:  "Dear Rodney,  you make us all so proud!". I could just as easily have written… "You make us all feel so valued"; or:  "You make us laugh";  "You make us glad to work here", or even "You make us want to be better people." All of these would have been true.
I dearly hope that he knew how important he was to all of us,  how much we loved him, how much he changed us all. How every single day was brightened by his presence on the corridor – by his huge smile or boom of laughter,  by the packet of chips or the chocolate bar left on my desk when he thought I needed feeding up,  by the constant efficiency of his office keeping the department on track.
Rodney mourned with us, cheered for us, believed in us, prayed for us. He was a man who lived passionately and completely in every moment.  He did not believe in regrets, in the 'what could have beens'.  His biggest lesson to me was that there is huge joy to be had from making the best of what you have.
In addition to the chaos and uncertainty of coronavirus living, we now have to reorganise our lives around his enormous absence.  In grief, and in truth, there are times that it seems like too tall an order.  But when I remember Rodney's energy,  and imagine him confronting such change – with his trademark grace and faith – I know that he has shown us already how we will get through it.
---